Editors Note: This was an article about a local woman from Bishopville, South Carolina who has to be the envy of females everywhere. May 24, 2010 it was published on
ABC NEWS website.
Caroline: "I like service. I like having a staff that takes care of me..."
New York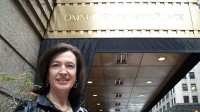 Caroline on the Street in Front of her hotel The Omni Berkshire Place
When Caroline Bowen arrives in her

hotel room

-- and it is

her

hotel room -- the closet is already filled with her clothing, cosmetics are stacked in the bathroom and on top of the dresser sits a framed photograph of her grandchildren.
To call Bowen a road warrior would be an understatement. Last year she spent more nights -- 207 in total -- in New York's

Omni Berkshire Place hotel than anywhere else, including her two homes.
Bowen lives in Hilton Head, S.C., and has another house in the Waynesville, N.C., in the
Smoky
Mountains
, but spends most week days at her
New York
office or on the road.
Since 2000, she has spent 1,110 nights -- or the equivalent of more than three years -- in Omni hotels. The next closest guest has logged 860 nights.
Her loyalty has led to some very special perks.
Whenever she checks in there is a bottle of wine -- chardonnay or Sancerre in summer, a red in the colder winter months -- waiting in the room along with a cheese and fruit plate. Extra blueberries are always added because the hotel staff knows she particularly likes them.
But the real treat is the extra closet installed just for her in her room on the 20th floor.
The hotel hired a company to refurbish the closet for Bowen, president of the
Connaught Group, a women's fashion company that sells clothing under the
Carlisle
, Per Se and Etcetera brands. She has the closet's only key, allowing the hotel to rent out the room on the rare occasions when she's not there.
Caroline's New York Closet
Inside the closet are 13 pairs of shoes, 30 to 40 belts, and dozens of dresses, scarves, handbags and even some workout clothes. The bathroom is stocked with her personal hairdryer, makeup, electric toothbrush and mouthwash.
"This is my room," she said from the room's plush sofa. "I get very special treatment here. I need a place that I can feel like is home, and that's what this is."
Given her position, Bowen can only wear her company's current season's clothing.
So how many articles of clothing are in the packed closet?
"I don't want to tell you," Bowen said laughing. "It's the business I'm in."
Hotel chains worldwide are known to go above and beyond to reward guest loyalty. The Hyatt Regency Aruba places weights and a workout mat in the room of a guest who has been staying there for 20 years and doesn't like working out around other people.
The Waldorf Astoria Grand WaiIea stores one guest's own personal bed. And Loews spokeswoman Emily Kanders Goldfischer said the Loews Regency in New York has performed a variety of unexpected tasks for frequent guests, including coordinating a jet at the last minute to the Bahamas for a business meeting and tracking down a hard-to-find designer bag for a guest's wife.
Bowen's frequent trips to

New York

and elsewhere in Omni's collection of 43 hotels in the

United States

,

Canada

and

Mexico

has made her the top guest in its loyalty program.
She has racked up plenty of free nights, but given her hectic schedule, she said, "I don't want to travel any more than I have to."
Bowen's company offered to put her up in a luxury Manhattan apartment, but instead she chose the Omni, which is literally across the street from her office. Most days when she leaves the office, she just crosses the street, quickly freshens up and then runs out to business dinners or events.
And of course she never has to clean the room.
"I like service. I like having a staff that takes care of me," she said.
Every morning at 7:15, the breakfast she ordered the night before is brought up to her room.
Caroline Chats with schoolmates from Bishopville High
"They know I like one box of Total and one box of Special K," Bowen said. "They know I like blueberries better than any other fruit, so they are heavy on the blueberries."
When she steps out of the front door, one of the doormen, William, gets into the road and stops traffic so she can seamlessly cross to her office.
Once when it was snowing and she didn't have on the right shoes, William picked her up and carried her across the street.
Keeping Bowen happy extends well beyond keeping one room occupied. The Connaught Group often rents out meeting space at the Omni or entertains guests in one of the hotels suites.
Travel experts suggest that everybody, even the causal leisure traveler, should sign up for various loyalty programs. You might not earn a free night but there are perks, although not as grand as Bowen's. For instance, members of Omni's
Select Guest Program
get a free morning juice, coffee or tea delivery to their room, complimentary pressing of two shirts, free bottled water and a free shoe shine.
But it's the top-saying guests who get the royal treatment.
Caroline Beattie Bowen
Another frequent guest at the Omni Berkshire Place, who was about to get married and then honeymoon in Hawaii, was recently in New York for work. The hotel staff knew about the upcoming honeymoon and set up his room for his arrival with Hawaiian flowers, fresh pineapple and other decorations.
"He was coming in for a meeting. The last thing he was thinking about was his wedding and his honeymoon," said Cynthia Li, the hotel's loyalty ambassador. "He was like, 'I can't believe you guys did this.'"
Sometimes, you don't even need to be a repeat customer to get some special treatment.
The hotel recently hosted a man coming home from a military tour overseas and his wife. Li, who e-mails each of the hotel's guest before their arrival, learned from the wife that the veteran had missed Christmas and Thanksgiving and this would be their first time seeing each other in months.
The couple was upgraded to a suite, which the staff decorated with Santa hats, a mini Christmas tree with lights, a paper turkey and apple cider waiting for them.
"It doesn't really cost us that much because we have the decorations in-house anyway, but it just made their stay so much more special," Li said